2016, Respect Zone opened an office in Brussels with the assistance of Fred Naymark.
Christmas 2017 : Respect Zone presentation at the "Sainte Union" institution in Dour.

Key dates

17th November 2017:  PP Respect Zone Harcèlement
Key Dates :
17th November 2017 : The municipality of Woluwe-Saint-Pierre adopted the Respect Zone label.

Benoit Cerexhe, mayor of the municipality, signed the Respect Zone charter in support of the fight against cyber harassment. The State Secretary for Equal Opportunities, Bianca Debaets, was also present at the signing.

Articles to read:

Speech given by the mayor of Woluwe-Saint-Pierre, Benoit CEREXHE.
Articles to read :
http://bx1.be/news/woluwe-saint-pierre-adopte-label-respect-zone-contre-cyber-harcelement/
http://www.skynet.be/actu-sports/high-tech/article/1811006/woluwe-saint-pierre-adopte-le-label-respect-zone-contre-le-cyber-harcelement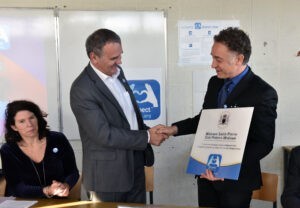 Speech given by the mayor of Woluwe-Saint-Pierre, Benoit CEREXHE171117 – Prise de parole du Bgm
10th October 2016: Presentation in Brussels.

Later that day, blogger Marcel Sel announced the implementation of Respect Zone on the TV programme "The Experts" on the BX1 channel.
Meanwhile, in accordance with the Ministry of Education, a memo referring to Respect Zone has been sent to 4,500 French-speaking schools. 

Upon request of the CPCP associations (Permanent Centre for Citizenship and Participation), three Respect Zone presentations were held at the local schools in Dour, Tournai, and Liège in the presence of teachers, educators, the students and their parents.
A team of volunteers has been assembled.
Several Belgian companies and institutions have already labelled their sites.

Respect Zone makes its debut in the Belgian school programmes at the start of the school year in September 2017.
In partnership with the Council of Education of municipalities and province, the tools provided by Respect Zone have been integrated into the courses related to Philosophy and Citizenship. Additionally, they have been heavily integrated into the educational programmes regarding the school, teamwork, and the many different forms of violence found in schools (harassment, intimidation, humiliation, cyberviolence, cyberbullying).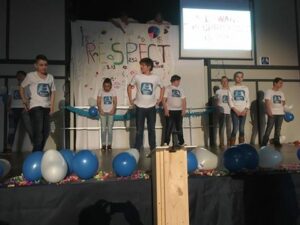 .
.