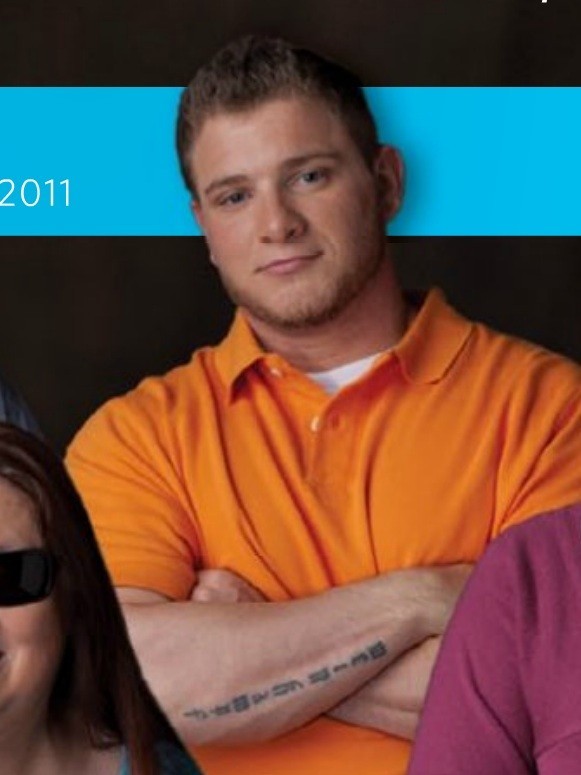 GBH, a public media hub in Boston, is drawing unwanted attention after choosing to put the subject of a
Frontline
documentary — and the « Mein Kampf » tattoo on his forearm — on the
cover of their August member magazine
, distributed to 150,000 members of the station.
David Nash appears in a composite photograph with four other people who have been the subjects of WGBH stories, with his arms crossed and the title of Adolf Hitler's infamous manifesto clearly displayed tattooed along his forearm. Nash was central to the May 2010 Frontline documentary « The Wounded Platoon », which chronicled the mental anguish many soldiers experience after multiple tours of duty and horrific experiences. (The story won a Peabody Award.) Nash and his story are also featured in a WGBH fundraising campaign.
Jeanne Hopkins, WGBH's vice president for communications and government relations, sent an internal memo to station employees who had expressed concern after seeing Nash's tattoo on the cover. She wrote a statement based on a conversation with Nash, from his point of view.
« Only part of the tattoo is visible, » the statement reads. « Those words are part of a larger phrase 'my struggle is eternal' (mein kampf ist ewig) that continues on my arm. This is an entirely personal statement that reflects struggles I have had in my own life, and is meaningful for me. It is not related to any other words or beliefs. I chose the tattoo in German because of my family heritage. I regret any misinterpretation, and I apologize if it has offended anyone. » …. »
Source / full article: http://www.rawstory.com/rs/2011/08/25/mein-kampf-tattoo-ignites-firestorm-for-boston-pbs-station/?utm_source=feedburner&utm_medium=feed&utm_campaign=Feed%3A+TheRawStory+%28The+Raw+S