excerpt from press: http://www.akadem.org/sommaire/themes/philosophie/judaisme-et-psychanalyse/bible-et-psychanalyse/mystique-et-folie-26-07-2012-45963_331.php?positiontemps=228
« Russian woman fined $3,000 over 'Mein Kampf'
Oct 4, 2012
#Adolf Hitler #NewsTrackerPrint
Moscow: A woman staff member of a Russian university has been slapped a fine of 100,000 rubles ($3,000) by a court for posting an online copy of Adolf Hitler's Mein Kampf on her personal website.The 28-year-old woman posted the book, which is on the Russian federal list of extremist literature, on her website from 2007 until 2011, said prosecutors at the Yekaterinburg city court.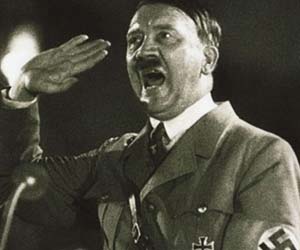 Adolf Hitler.
The woman pleaded guilty on charges of an attempt to incite racial hatred. She asked for leniency in the case which could have jailed her for up to two years.
In January, a Moscow resident was given a one-year suspended sentence for posting "Mein Kampf" on his website.
Austrian-born Hitler wrote the autobiographical "Mein Kampf" (My Struggle) in prison after his failed Munich coup in 1923, known as the Beer Hall Putsch.
The book, which outlines the Nazi vision of Aryan racial supremacy, was banned in Russia in 2010. »