[:fr]
German Pirates Party: Our success similar to Hitler's
Senior member of party ranking third in opinion polls draws harsh criticism for comparing faction's ascent to Nazis' rise to power; party activist criticizes Israel in YouTube clip
from : Ynet http://www.ynetnews.com/articles/0,7340,L-4220438,00.html
A senior member of Germany's Pirates party caused an uproar when he compared its meteoric rise to that of Adolf
Hitler
before 1933.
The party ranks third in opinion polls and expected to enter parliament next year.
« The ascent of the Pirate Party is proceeding as swiftly as the NSDAP (National Socialist German Workers' Party, or Nazis) between 1928 and 1933, » Martin Delius told the weekly news magazine Spiegel.
Delius, 29, a former software designer, later apologized for his remark and withdrew from an election for the Pirates' executive board, but resisted calls to quit his post in the Berlin city assembly.
The Pirates, whose platform is based on internet freedom and more direct participation in politics, won seats in the city government of the capital last September.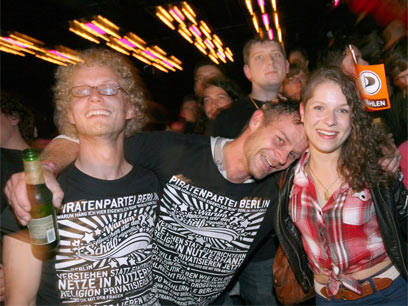 Party members after victory in local elections (Photo: EPA)
Recent opinion polls indicate that the Pirates, an offshoot of a party founded in Sweden, have now overtaken the Greens to become the third biggest party with about 13% support, behind only Chancellor Angela Merkel's ruling conservatives and the main opposition Social Democrats.
The party is suspected by police of having links to a small far-right cell that carried out a decade-long murder campaign against immigrants. The cell was exposed late last year.
Moreover, the Pirates party suffered the embarrassment of having two members exposed as former members of the far-right National Democratic Party (NPD). The two members resigned late last year, but the Pirate's federal chairman Sebastian Nerz said there were « almost certainly a few more Pirates who used to be NPD. »
A Pirates party activist recently posted a video on YouTube in which he criticized Israel. The Bild daily quoted the blog of another party activist as suggesting that Germany had acted in self-defense in 1939 when it attacked Poland because the Poles had ordered a general mobilization.
Apart from its far-right tendencies, the party has also been accused by other parties of misogyny due to the lack of women members, as well as being devoid of political content.
In response to Delius' remarks, Nertz told the Bild, « Everyone should think properly about what he says, about the historical analogies he draws and what effect they may have. »
But a commentary published by the Bild said parties without an understanding of history had no place in parliament.
Other German parties, which viewed the Pirates' ascent with great concern, jumped at the opportunity to discredit it. Claudia Roth, leader of the Greens, who have suffered particularly from the Pirates' success, called the remarks an « outrageous transgression » that could not be excused by the party's lack of experience.
Senior Social Democrat MP Thomas Oppermann said the « tasteless » comparison proved that the Pirates have yet to clarify their view of far-right militancy.[:]